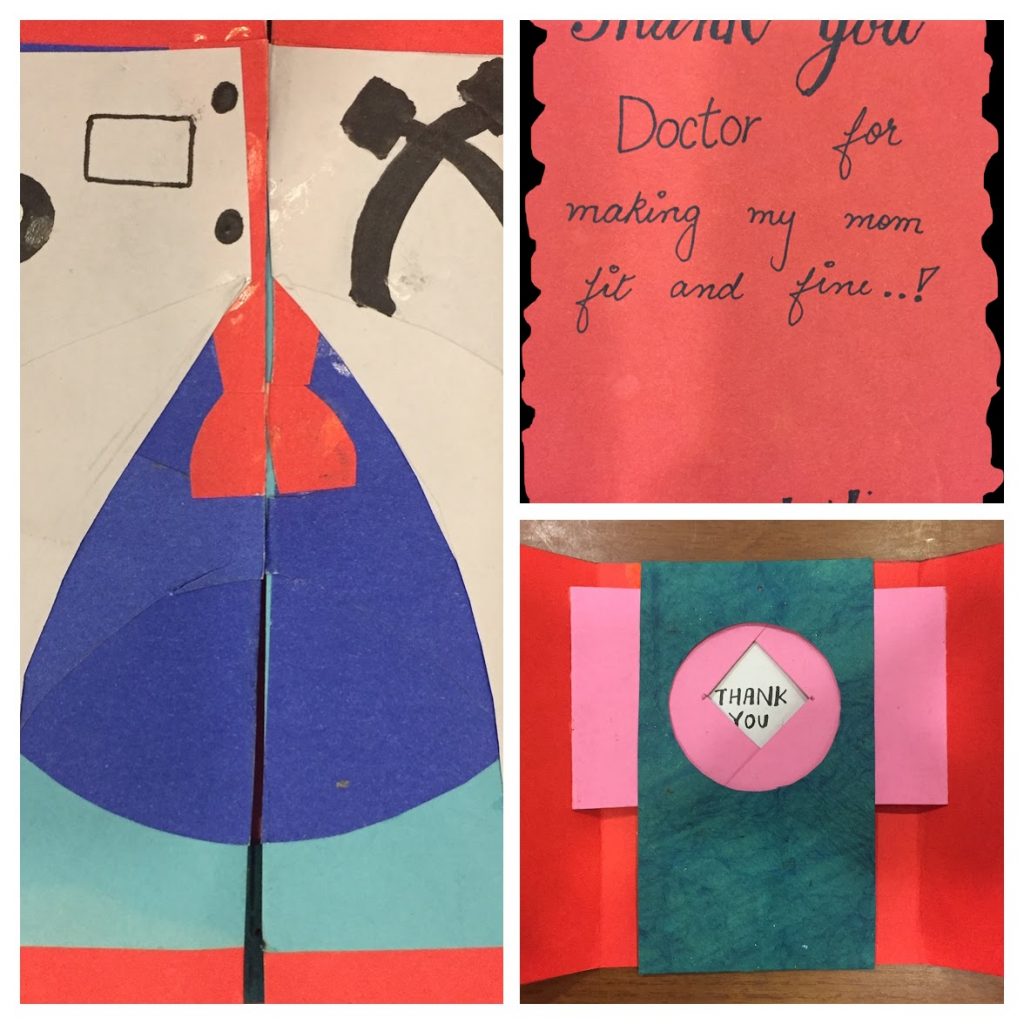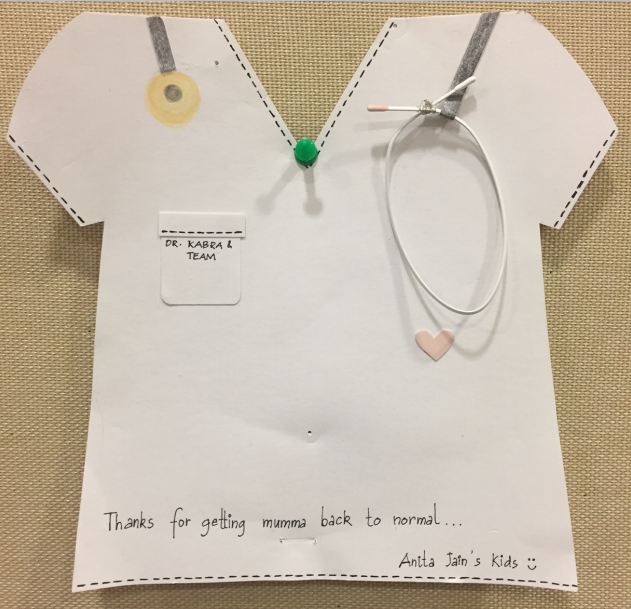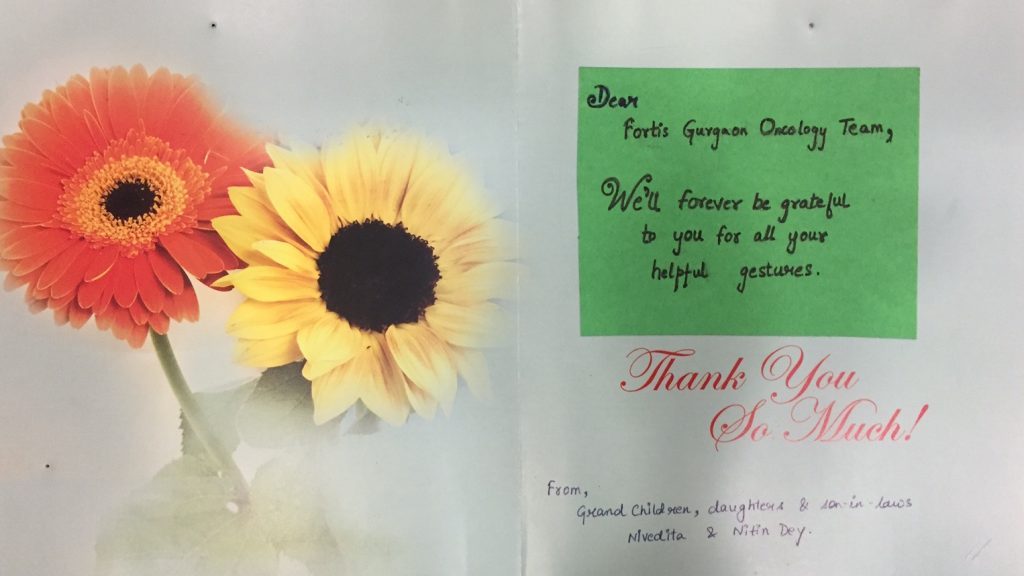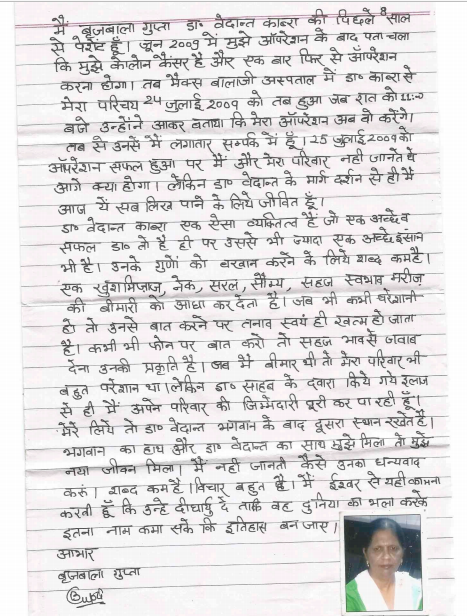 Aabhaar,
Brijbala Gupta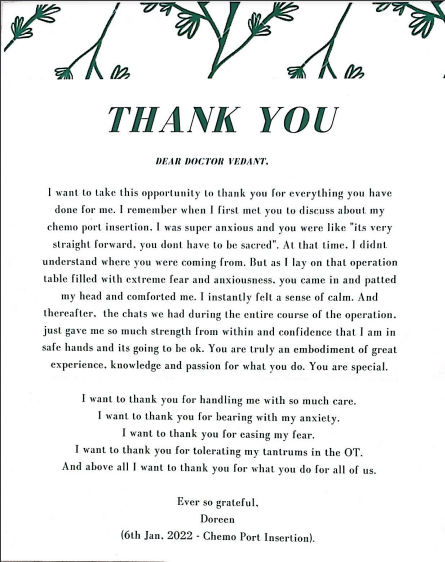 Ever so grateful,
Doreen
My name is Pielina Lamba, I come from Dar es Salaam, Tanzania. I visited Fortis Memorial Hospital in October 2016. I had a problem with a Tumor in my lower abdomen.
My experience with Dr. Vedant Kabra has been truly impressive and beyond my belief. My first-time appointment with him was very good, he had the patience to explain my illness in detail and in a professional and confidential manner. I had a piece of paper in my hand with questions and he answered them all.  He explained all about the tests that I will undergo and finally how the procedures will be done after the results. This was a good psychological preparation and it gave me courage and hope that was lost.
After the surgery which was successfully done, Dr. Vedant explained to me and my brother who was nursing me at that time on how the procedure was successfully done and after that he paid frequent visits in the ward with his team to check on my progress and advise me accordingly to do some walking exercises. I express my appreciation for Dr Kabra and his caring team.
After my discharge, I came back home to Tanzania and whenever I experience any problem regarding y health I was able to communicate with him via email and he was able to advise me to do some tests with the assistant of my local doctor and advised on the medication, this was very useful to me. As time passed by I felt fit and strong and back to my usual self.
I was asked to return for medical check- up after one year and that was December 2017. I was well received and he asked about my condition which was fine, and he requested for me to do some tests which were all excellent. This indicates that the surgery was professionally done and successful.
I would highly recommend Dr. Vedant Kabra to any patients that need a caring, professional opinion and treatment.
Pielina Lamba, Tanzania
Hi Dr Vedant
I would like to express my gratitude to you for everything.As a surgeon you r the best and most sincere doctor I have ever seen in my life .me ,my mother and my whole family is really thankful to you from the core of my heart for the successful onco surgery done by you on my mother in 2014 . You have counsel and guided us throughout the duration we were in hospital and later on follow ups were also sincerely attended.
I would like to recommend everyone who is looking for genuine and honest oncosurgeon in Gurgaon and NCR must visit Dr Vedant Kabra.
Again thanks and may God always bless u.
Regards,
Dr Garima
A doctor with a soul
Dr Vedant Kabra operated on me for an ovarian cancer in 2015. He has excellent bed side manners and is a very competent doc. He cares, is easy to reach and very approachable besides being an excellent human being. Although I am now in Dubai, I continue to rely on his advice for follow ups.
Usha Lamba,
Dubai, United Arab Emirates
The BEST Doctor
My wife was diagnosed with Ovarian tumor in 2016(last year) at the age of 32. It was a very big tumor that needed open surgery.
We first went to Medanta but the senior Onco gynae(Lady doctor) there did not even look at the patient. She was busy in her mobile and her assistants were taking the notes. They wrote some tests and ask us to come with the reports of those. When we went there next day with the reports, she suggested ascytic fluid tapping even when MRI said no fluid seen only solid mass. We had no choice but we took the risk of that. Thankfully, the doctor could not do the process as ultrasound revealed no fluid! We went back to the doctor and she immediately said that why we have come again when we were told by her to come after two days!
We decided to explore other options and we had the weekend to decide upon that. During the weekend, we met one of our doctor friend who suggested that we see Dr. Vedanta Kabra at Fortis.
We were first in his appointment list on Monday morning. He was right on time in the hospital and welcomed us with a very pleasing smile. It was altogether a different experience for us. He personally saw all the reports including MRI films(not just the report) which was highly surprising for me as most of the times I have seen doctors just look at the paper reports and ignore the films. He gave us decent time and clarified all the doubts in around 20-25 minutes. Yes, 20-25 minutes where these days doctors don't even bother to look at the patients and ask their assistants / juniors to do that. He explained the whole surgery process(including pre and post surgery) very clearly. My wife and I were accompanied by both of our parents and our brother-in-law. When we came out of the room of Dr. Vedant, all 6 of us were relaxed and wondering if my wife has any medical complication and are we the same couple who were devastated few days back when MRI report said "Likely Malignant Mass – Ovarian CA".
Such was the confidence we got in Dr. Vedant. It is important to tell that we did not go through any source. It was just a reference of our doctor friend.
She was admitted next day and day after that surgery was performed successfully. We were getting updates throughout the whole 6 hours of surgery on the progress. Yes, patient feels pain, discomfort etc. after surgery but the way she was looked after by Dr. Vedant, Dr. Pushpender and the entire onco team in the hospital(for 5 days) – it was really a great blessing on us. That is where we realized that good doctors can cure complicated conditions easily but bad doctors can spoil easy cases easily. Dr. Vedant clearly falls in the former category where we have full confidence in him and his team that they just don't look after the disease or medical complication, they also look after the patient! This is the key for any Oncology case.
We have been through that shocking phase of life and realized what surprises life can throw. Luck, stars and time do play an important role and if these are against us, doctors can just try their best without positive results. However, be it our good luck, God's blessings or any of our past good deeds, we found such a professional and experienced team of doctors.
We have very high regards for him and Dr. Pushpender and their entire team and we pray to God that he continues to cure his patients successfully.
Thank you Dr. Vedant and your team for being with us(even today in routine check ups) in our most difficult times.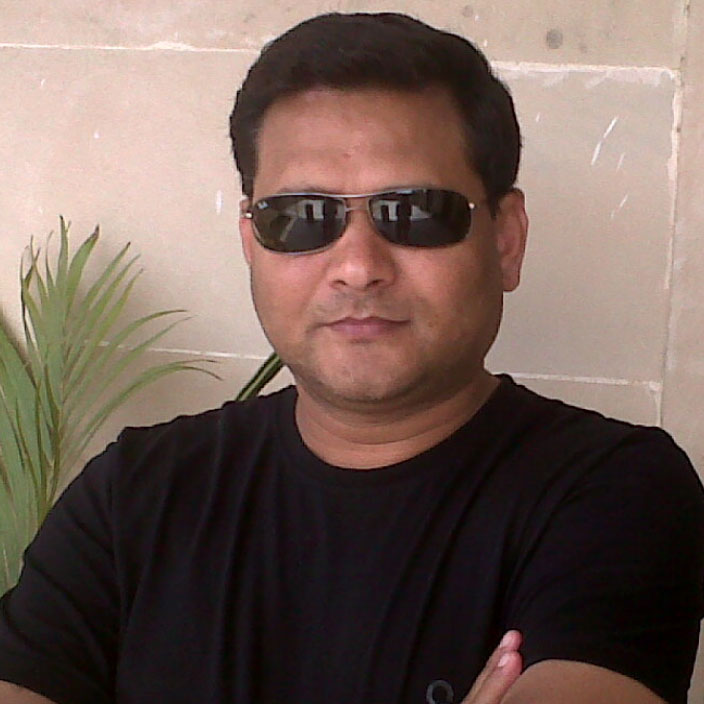 My earnest appreciation for & best wishes to Dr. Vedant Kabra, who had not only treated my Cancer disease but also treated me emotionally to come out from fear / phobia of Cancer. I remember the day when first I met him in the year 2014 & he had diagnosed me with Cancer disease & that was a shocking moment for me & my family. Dr. Vedant calmly explained about disease to allay my anxiety and fear. Then, in his soft-spoken voice, asked me to relax as things will be alright shortly. This gave me strength & that's what exactly happened in my life. Now I am fully fine & enjoying my life. He always encourages patients to be strong to fight with Cancer disease. I appreciate Dr. Vedant for having such a great knowledge & experience for dealing with Cancer & also for his efforts on spreading awareness in our society about the causes of Cancer so that people adopt healthy lifestyle and prevent cancer.
I wish Dr. Vedant to have great life ahead & best of luck for his future endeavours.
Best Regards
Mr. Rakesh Mohan Jakhwal
Thanks! Thank you !!! I am very grateful to my Indian best doctor in the world. Of course, he deserves such gratitude, because he, of course, brought me back to life. I can talk about it more and more endlessly. In the early days I went to India to Fortis Hospital. And my doctor Vedant Kabra politely greeted me, with him was his assistant, they both examined me and, after studying my sore spot (I was diagnosed with breast cancer on the left side), he promised me to my nephew and, of course, was with us Together the Indian translator Rupendr, my doctor Vedant Kabra gave 98% for the operation, and the guarantee for my health and I thanks to him was not a disabled but a healthy woman. And he kept his word. Since then, I consider him the best doctor in the world. I heard from other patients and about him, and they also always told Vedant Kabra the best doctor. And he was up to me, helping a lot of patients with his golden hands. I saw many patients from him, they came from Uzbekistan from Africa from Afghanistan from Saudi Arabia, and he repeatedly visited my country. And, most importantly, every year I check my health with my doctor Vedant Kabra in India, now I completely trust him to test my health.
Ms Ozoda, Tashkent, Uzbekistan – Treated for breast cancer
Dear Dr. Kabra,
Thanks again for your time write Neena's regular yearly check-up.
We are fortunate to be associated with you and thank Almighty God for getting us connected to you during our tough time when Neena was diagnosed with CA in 2007.
With your apt guidance and support, a successful surgery and continuous follow-up during all these years, Neena is doing good.
It's God's grace and your continued guidance that's keeping us going.
Thank You !!
You are a God sent Angel.
Regards Always
Mr. & Mrs. Ajay and Neena Ahuja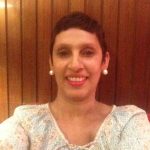 I am indeed very fortunate to have Dr Kabra, as my surgeon oncologist. Being under his personalised care, before and after surgery…exceeds expectations. 
I would l like to thank you very much for your care, kindness and extreme PATIENCE… Dr.Kabra's communicative style is extremely supportive and he's an excellent listener…His surgical skills are PAR EXCELLENCE!
He doesn't just share medical knowledge but also motivates his patients in self healing.Hope all doctors can follow his exquisite example and treat the Whole patient, and not just the cancer… Because of his guidance and reassurance… me and my family were able to cope so much better …
Regards
Mrs. Ashima Chug, Jalandhar
The hand that rocks the cradle rules the world but the hand that heals the world, rules the hearts…
When I first met Dr Vedant Kabra, I was a distraught young woman traumatised by the C word and looking for a doctor for my mother. Little did I know that a meeting with him would thankfully timely end my search. The very first meeting with him made us take a decision. He was gentle but confident firm but reassuring and clearly  demarcated between fears and finding solutions, between dos and don'ts, and between, most importantly, what will change and what will not. Life, of course, never remains the same post cancer – for the patient as much for the family.
And since then it has been a long time of knowing him at every step. Fearing his logical concern for his patient, learning to cope up with his high demands for the care of his patient, living upto his expectations of looking after his patient at home and so on. For him, the patient is his ONLY concern. And that makes him stand apart in the medical fraternity. And he listens and patiently answers – your every fear, every reasoning, every logical-illogical question, your repetitive anxiety – is all taken care of by him. Dr Vedant Kabra, as I know him, is not just one of the best doctors but a fine human being – a quality that is the first requirement for being a doctor. 
This one is for all his patients –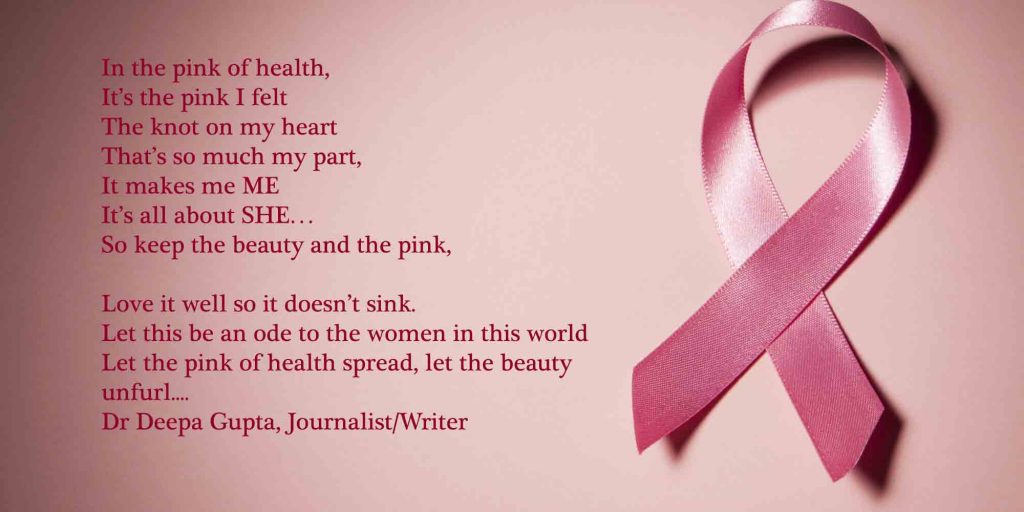 Dr Deepa Gupta, Journalist/Writer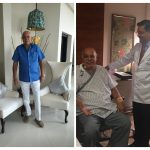 In Oct 2015 a routine blood test showed that my haemoglobin was dangerously low. A colonoscopy and biopsy confirmed what I most dreaded – Colon Cancer!
Dr. Kabra was highly recommended by several well wishers and from the first meeting it was apparent why. He was calm and gentle yet confident. He explained the disease and suggested procedure in great detail and I felt reassured immediately. The surgery went flawlessly and Dr. Kabra went out of his way afterwards to follow up on every front. He was available day and night not just to me but also to my worried family and everyone always felt better after talking to him. There is no doubting his medical prowess and professionalism but what I enjoyed most was his sense of humor and easygoing personality which helped speed my recovery. I was in and out of Fortis in five days and traveling overseas in just 3 weeks. Its been almost 2 years since my initial diagnosis and I've never felt better. My family and I will be eternally grateful to Dr. Kabra for helping us through this challenging time.
Mr. Bhupinder Singh

I met Dr. Kabra in 2014 as a patient of cancer. After going through severe pain in abdomen for last one year I was operated in my city. The Ileotranserve Anastomosis was done but carcinoma ascending colon was not resected. I was referred to Dr. Kabra and he turn out to be a God to me. My definitive surgery was done under his oncology team and I was given a new life. After suffering all those post operative pains and going through my eight chemotharapy cycles I've been surviving pretty well. I still be in touch with Dr. Kabra, always visit him after a definite span of time and take all required precautions and medicines as he advises.
Mr. Pawan Kr. Kashyap, Varanasi, Uttar Pradesh
Dear Dr. Kabra,
"I have been under the treatment and follow-up care of Dr. Vedant Kabra since December 2015, when I was diagnosed with an endometrial carcinoma.  I have found him to be a thorough and competent professional before, during and after the surgery that I had to undergo.  During my hospital stay, I appreciated that he and his team visited daily and were very attentive to the patient's concerns and needs.  He is a doctor in the true sense of being caring of the patient's well-being, and has continued to encourage me during my follow-up visits."
Regards,
Mrs. Snimer K. Sahni
Dear Dr. Kabra
When I came to know about my disease, I was completely shattered and torn. Dr Vedant Kabra has been the pillar of strength. Probably the best surgeon I could ask for. He is the epitome of positivity and strength. Because of his support, I could muster the courage to fight back. With him being in charge, the treatment became very organized and flawless. He is very competent and meticulous surgeon. I am truly grateful to God that I met Dr Kabra who turned out to be the best oncology surgeon of our times. I am sincerely thankful to him and pray to God that he continues to be the strength and courage for patients like me. May God bless him with lots of success and happiness in life. He is really doing a very good job for the society and the country.
Thank you so much.
Kind regards,
Mrs. Jaya Kohli, Dubai