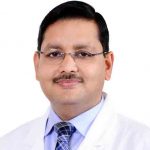 Dr. Vedant Kabra is currently the Principal Director, Dept of Surgical Oncology – Fortis Memorial Research Institute, Gurugram; Delhi NCR hospitals of Fortis Healthcare. He, along with his team, would cover Gurgaon and Delhi-NCR hospitals of Fortis to deliver comprehensive cancer care for cancers of Breast, Gastro-intestinal tract, Head & Neck, Gyne & Genitourinary system, Skin, Soft tissues, Bones, Lungs and Mediastinum with emphasis on organ conservation and quality of life utilising techniques like Sentinel node biopsy, Breast Conservation & Oncoplasty, Minimally Invasive / Robotic Surgery, HIPEC, Limb salvage surgery etc. To promote holistic health / cancer prevention, spread cancer awareness and help in early detection of cancer & develop Fortis Cancer Institute in NCR region.
Dr Kabra has treated patients not only from various parts of India and the neighbouring countries (Nepal, Afghanistan, Bangladesh and Bhutan) but also from Central Asia (Uzbekistan, Kazakhstan, Turkmenistan), Middle East (Dubai, Iraq, Oman, Bahrain, Yemen), Africa (Kenya, Nigeria, Tanzania, Uganda, Mauritius, Sudan, Ethiopia, Sudan, Atricia, Sierra Leone, Eritrea & Somalia), and Pacific Islands (Fiji, Kiribati, Tuvalu). He has visited many of these countries to deliver lectures as a part of Continuing Medical Education for the local medical fraternity, conduct cancer awareness sessions for the public and to hold medical camps.
He received Surgical Oncology training from Tata Memorial Hospital, Mumbai and National Cancer Centre, Singapore, is having experience of over 12000 cancer surgeries and has successfully performed various complex oncosurgical procedures. He has been a faculty at various international and national conferences, has numerous papers and four book chapters to his credit apart from various awards for academic excellence. Dr. Kabra is also a tutor for the Indo-British Breast Oncoplasty Fellowship course conducted by University of East Anglia, UK
He is passionate about spreading Cancer awareness – regularly conducts awareness and self examination sessions. He has sensitised thousands of Police officers and officers from Education department for strict implementation of tobacco control measures. His active involvement in tobacco control activities and leadership in Haryana was instrumental in starting the tobacco control movement called "Voice of Tobacco Victims" in the state of Haryana. Dr. Kabra is currently also promoting "Pledge for Life" campaign to prevent children and youth from taking to tobacco.
Education & Fellowships
MBBS (Banaras Hindu University) – 1995
MS (Gen Surgery) (BHU) – 1998
DNB (Gen Surgery) – 1999
MRCS (Edin) Royal College of Surgeon of Edinburgh – 2002
Registrar, Surgical Oncology (Tata Memorial Hospital, Mumbai, India) – 1999-2002
Fellow, Surgical Oncology (Tata Memorial Hospital, Mumbai, India) – 2002-2003
Clinical Fellow and Associate, National Cancer Centre, Singapore (Jan 2005 – Oct 2006)
Tissue Bio-banking Course, Bordet Institute, Brussels, Belgium 2009
Robotic Training, Sunnyvale, California, USA 2015
Awards & Honors
University Gold Medal (BHU) for standing first in Final MBBS Examination
Best Undergraduate Student of Surgery in Uttar Pradesh (1995-96). UP chapter of Association of Surgeons of India
Best Resident of Institute of Medical Sciences, Banaras Hindu University (1997-98)
Best Research Paper Award in Annual Conference of Association of Surgeons of India at Ahmedabad, December 25-30, 1998.
Second Best Poster Award in Annual Conference of Indian Association of Surgical Oncology at Lucknow, September 19-21, 2003
Faculty / Tutor at Indo-British Breast Oncoplasty Fellowship Course (2 years) offered by University of East Anglia, UK
Work Experience
Tata Memorial Hospital, Mumbai (1999-2003)
National Cancer Centre, Singapore (2005-2006)
Max Healthcare, Delhi NCR – Consultant & Senior Consultant Surgical Oncology (Jan 2007 – Aug 2013)
Fortis Memorial Research Institute, Gurgaon – Director, Surgical Oncology (Aug 2013 – March 2018)
Manipal Hospitals, Dwarka, Delhi – Head, Surgical Oncology (March 2018 – Nov 2021)
Specialty Interest
Breast cancer surgery including breast conservation and oncoplasty
Gastro-intestinal and Gynecologic cancer
Robotic & Laparoscopic Surgery for Cancer
Head & Neck Cancer, Thoracic Cancers, Urologic Cancer, Bone & Skin & Soft Tissue cancers
Academic Contribution
More than 100 Oral and Surgical video presentations in National and International Conferences
Several National & International Publications
4 Book Chapters
Faculty / Tutor at Indo-British Breast Oncoplasty Fellowship Course (2 years) offered by University of East Anglia, UK
Professional Memberships
Association of Breast Surgeons of India
Asian Society of Mastology (ASOMA)
Indian Society of Oncology
Indian Association of Surgical Oncology
Royal College of Surgeons of Edinburgh, United Kingdom
Association of Surgeons of India
National Academy of Medical Sciences, India
Indian Medical Association
His Social Responsibility comprises of mainly: