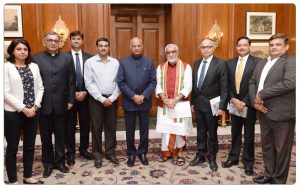 Dr Vedant Kabra has been offering voluntary services to the campaign "Voice of Tobacco Vicitms – VoTV" almost since its inception and is currently spearheading its activities in Haryana.
"Voice of Tobacco Victims" is a campaign to make Tobacco Victims as the public face of the tobacco control movement in India. It is unfortunate that a cancer causing substance, that kills millions every year, is sold so freely and advertised so brazenly. It is disturbing to witness ever-increasing number of young cancer patients visiting cancer clinic every day. Most of them, owing to advanced stage, die within a short span of diagnosis. Those who survive, live with severe depression, dejection, disfigurement and disability. Should we remain a silent witness of a crime and wait for someone else to find a solution? We intend to make tobacco victims as the public face of the war on tobacco. We help tobacco victims get justice and help them raise a war cry against the very industry that sold them cancer. We believe that no one can withstand this formidable force that is driven by pure passion. This campaign is supported by Tata Memorial Hospital, Action Council against Tobacco India, Healis, Salaam Bombay Foundation, World Health Organization, American cancer Society, World Lung Foundation, Campaign for Tobacco Free Kids, Indian Dental Association etc. This experiment began on 31st May, 2009 with a small group of 10 cancer patients who launched this campaign at Tata Memorial Hospital. The experiment proved immensely successful and these cancer patients shocked the media and audience with their grit and determination. They have only one aim for their countrymen "This is what tobacco did to us, we want to save others!" They have pledged along with other members of VoTV campaign "We want to wake up the government from the slumber. We want to send a strong message to the perpetrators of the crime…we want this menace to end…before we die."
Since then it has spread to many parts of the country and around 300 doctors provide voluntary service to run this campaign. It involves advocacy with Policy makers (Politicians, Beaurocrats, Judiciary) and Policy implementers (Home department i.e. police) to make stringent laws and strictly implement the already existing ones.
Dr Kabra has so far sensitized more than 3500 police personnel (including Police Commissioners, SPs, SHOs, Inspectors, Sub-inspectors, and new recruits) and 2500 Officers from Haryana government Education Department (District Education Officers and School Principles). The State of Haryana became only the second in the country to arrest a trader under Juvenile Justice Act for selling tobacco to a minor. In the city of Gurgaon alone, which did not see any challaning under COTPA Act until mid of 2016, more than 30,000 challans were made until March 2018. Other districts in Haryana that have started drive against tobacco are Faridabad, Sonepat, Hisar, Karnal, Yamunanagar, Jhajjar, Rohtak, Ambala, Kaithal.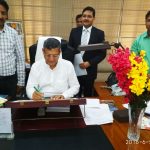 Dr Kabra also met with the Hon'ble President of India, Shri Ram Nath Kovind ji and apprised him of the current situation of Tobacco related problems in India. The Hon'ble President has promised his full support for tobacco control. The Speaker of Haryana Assembly, Shri Kanwar Pal ji was also sensitised by Dr Kabra and his team.
Why is tobacco bad
Tobacco in one form or the other (Gutka, Pan, Khaini, Beedi, Cigarrete, Hukka etc) is responsible for 40-50 percent of all cancers.
90 percent of lung and oral cancers are due to tobacco use.
It also causes many other diseases like brain stroke, heart attack, impotence etc.
Every 8 seconds a life is lost to tobacco somewhere in the world
Activities of VoTV by Dr Vedant Kabra
The activities include sensitisation of policy makers and implementers to make more stringent laws and implement the existing ones strictly. Dr Vedant Kabra is one of the patrons of this movement and incharge for Haryana and some parts of Uttar Pradesh. He has personally sensitised over three thousand senior level officers of Education department, Government of Haryana and more than three thousand five hundred police officers from Constable to DGP rank.
Meeting with Hon'ble President of India Shri Ram Nath Kovind ji
Launch of tobacco control by Gurgaon Police, Sept 2015
Launch of COTPA booklet by Commissioner of Police, Gurgaon, Feb 2016
Training at Madhuban Police Academy, Haryana Sept 2016Poster release by Commissioner of Police, Gurgaon, Jan 2017
Training at Bhondsi Police Training Centre, Nov 2017
Sensitisation of CMO and other Doctors at Varanasi, Nov 2017
Sensitisation of SP, Varanasi, Nov 2017
Meeting with DGP Crime and ADGP Law & Order, Haryana, June 2018
Sensitisation of and signing of "Pledge for Life" by Hon'ble Speaker of Haryana Assembly, Shri Kanwar Pal ji, June 2018

What have we achieved ?
A significant reduction is use of tobacco as per WHO's GATS (Global Adult Tobacco Survey) – As compared to 2009-10 GATS 1 survey, the GATS 2 survey done in 2016-17 has shown that the number of tobacco users above the age of 15 years in India has come down from 34.6 percent to 28.6 percent.
Click Here for Awareness Talk Videos.